PhD in Sociology

PhD Sociology or Doctor of Philosophy in Sociology is a Doctorate Sociology course. Sociology is the study of human cultures, communities and societies. The Ph.D. programme in sociology is based on advanced courses in research methods, statistical inference and sociological theory. Studying sociology not only increases the understanding of human society but also helps to classify human social behavior systematically. Sociology (the science of society) assists an individual to understand himself, his capacities, talents and limitations. It tells us why man is a social animal, why he lives in groups, communities and societies. The minimum duration of the course is three years and the maximum is five years. The course enhances candidates academic value along with opening various career scopes.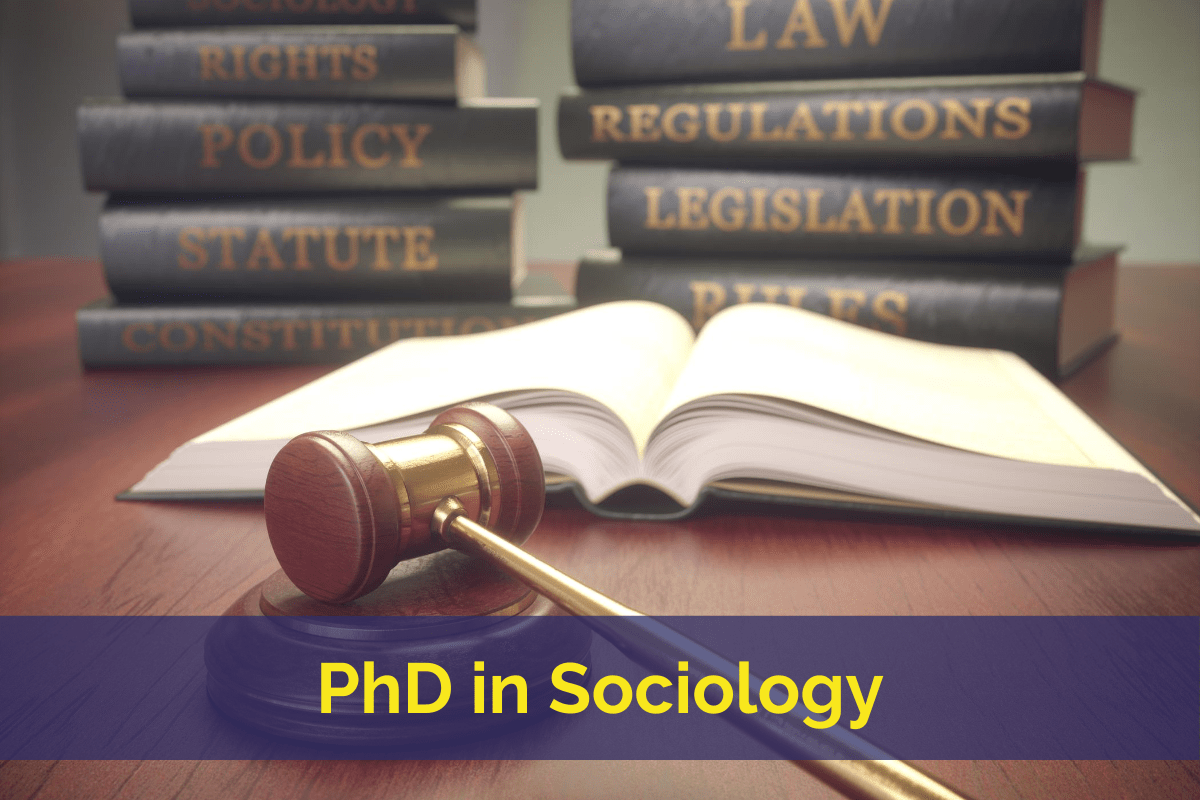 PhD in Sociology Course Highlights
Duration: 3 years (Full Time & Part-Time)
The minimum Eligibility required is a Master's degree in sociology discipline with a minimum of 55% score + Entrance exams score.
Admission Process: Both Entrance Exam and Merit-Based.
Top Ph.D. in Sociology Entrance Exams: UGC NET, UGC CSIR NET, SLET, GATE, and many more.
Top Universities and Colleges: Presidency University, IIT (Kanpur), Christ University, Jadavpur University, Jaipur National University, and other popular universities and colleges.
Distance Education/Correspondence: Yes
Top Distance Education Ph.D. in Sociology Colleges: KSOU, IGNOU, and BRAOU, etc.
Common Jobs after Ph.D. in Sociology: College Professor, Sociologist, Political Scientist, Policy Analysts, Management Consultants, Social Workers, Survey Researchers, Pollsters Human Resources (HR) Representatives, Public Relations Specialists, Guidance Counselors, among others such.
PhD Sociology Colleges
University of Delhi - DU, Delhi
University of Madras, Chennai
Panjab University - PU, Chandigarh
Banaras Hindu University - BHU, Varanasi
University of Hyderabad, Hyderabad
PhD in Sociology Admission Process
The PhD. in the Sociology admission process is based on both merit and entrance examinations conducted by university/college offering the course or merit-based. Personal Interview rounds are conducted. Admission to a Ph.D. program is also possible at any time during the year through advertising the program in Employment News/web portals/newspapers.
Reservations are applicable to SC / ST / EWS / OBC NCL / PwD candidates as per Govt. of India rules.
PhD. in Sociology Merit Based Admission :
Institute/College may specify a higher credit requirement for their Ph.D. program.
It may also require an individual scholar to complete a larger number of credits based on their background and preparation level.
The Selection Committee will call eligible candidates possessing the minimum educational qualifications and satisfying additional and stiffer criteria set from time to time, for an interview and/or test.
Based on the academic record and the performance of the candidates in the interview and/or test, the Selection Committee will recommend the names of candidates found suitable for admission.
PhD Sociology Course Employment Areas
UGC
Research Foundation
Ministry of HRD
Ministry of Social Justine and Empowerment
Social Defence, Criminology and Correctional Administration
UNICEFF
WHO
PhD Sociology Course Job Types
Social Scientist
Research Associate
Investigator
Demographer
Research Fellow
Policy Analyst
Urban Planner
Research Officer
Community Counsellor
Research Analyst
Programmer Evaluator
PhD Sociology Course
Scholarships

We receive money from a range of sources to help you fund your research and have a variety of awards on offer, covering tuition fees and a generous stipend, including school and departmental studentships and the President's Doctoral Scholar award.
Application deadlines for internal funding opportunities are often at the beginning of December for programmes starting the following September. Please ensure you check the School site for up-to-date information.
If you're planning to apply for a scholarship or award that is not attached to a particular project, you'll normally need to hold an offer of a place from the University before applying.
Search for current funding opportunities by country and research programme using our funding database search tool
If you wish to be considered for funding available via the School or Research Council (NWSSDTP/ESRC) you must submit your complete programme application as early as possible.